Over the course of the past 23 years, the one thing that remained constant is our involvement with education and training. Educational exercises created at Dyton Learning have been used by thousands of students of all ages from pre-school to post-graduate and our theory of operation training modules have touched every continent.
As we move into the next phase of our career, we are capitalizing on what we've accomplished in the past and are putting more focus on training and development.
Currently we are working with a network of instructional designers, each with a different focus. Some have worked in traditional education, while others have worked in manufacturing and the defense industry.
We firmly believe that every organization is a vast repository of knowledge and experience and we are dedicated to helping companies put that knowledge and experience to work.
---
Client: John Deere Service Training
Project: IMS Training Application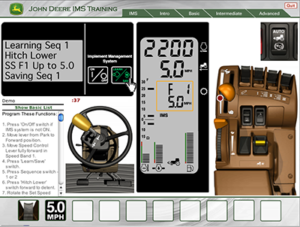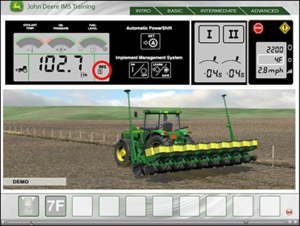 By comparison, the tractors of today are much more than throttles, gear shifters and steering wheels. Speed control, implement deployment, mechanical front wheel drive, hitch valves, selective control valves and power takeoff are just some of the modern features. When the engineers at John Deere developed the Implement Management System (IMS), it was intended to help tractor operators automate some of the tasks associated with farming. The problem was that no one really knew how the IMS was supposed to work. Dyton Creative was contracted to create four simulations of the IMS system to guide operators through the setup and operation of the IMS. Building the instruction using a three-tiered approach, the students are offered the option to program the IMS in a "real world" setting or to be guided step-by-step through the process. Feedback was created using 3D models taken directly from John Deere's Pro Engineer system to demonstrate the actions of the tractor when the IMS has been programmed successfully.
---
Client: Drake University
Project: APA Style Module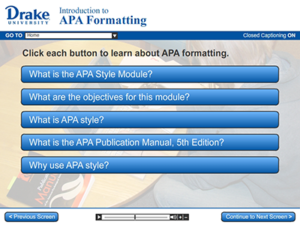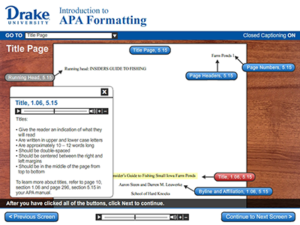 Drake University is a mid-sized, private university, widely recognized as one of the leading institutions of higher learning in the Midwest. Drake contracted with Dyton Learning to develop a better way to teach the APA writing style. In conjunction with Drake University faculty, Dyton Learning developed a web-based application which makes use of both visual and audio information to lead students through the process of using the APA style.
---
Client: Prentice Hall
Project: R.O.L.L.S.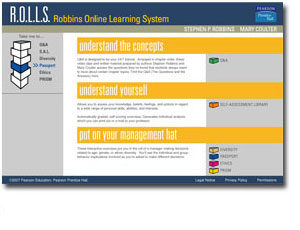 Prentice Hall contracted with Dyton Learning to build a website that managed a large volume of content from a variety of sources. Dyton developed a uniform interface that provided an intuitive navigation experience while staying within the design parameters of an existing print product.
---
Client: Barron's Educational Series
Project: 'Verbs' CDs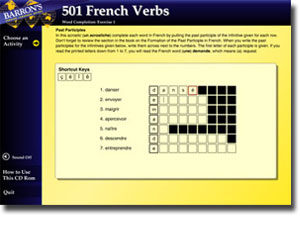 Dyton Learning produced this CD set (including English, Spanish, Italian and French Verbs CDs) as an educational tool for students to learn verb forms in foreign languages. The CDs are a companion to the book series produced by Barron's and each CD contains sets of five different interactive activities that test students' knowledge on the verbs they've learned.